View our current Group Fitness schedule on ClassBug!
All class passes can be purchased through ClassBug.
Visit our Classbug web store
Purchase class packs or reserve your next class!
How to use Classbug
Download specific instructions on how to use Classbug.
Virtual Classes
We will continue to offer virtual options for members to join their favorite classes from home.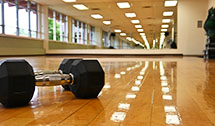 Indoor Classes
We are offering Indoor Group Fitness Classes to our members!
Max class participation: 15 members (*Max participation for Cycle classes = 12)
All participants MUST register for class in advance.
Face masks are optional at the Center Fitness Club and Park District facilities.
We ask that all members please wipe down equipment before and after class.
We highly encourage members bring their own mats to all outdoor fitness classes.
The Center Fitness Club is proud to offer a variety of fitness classes to benefit your body and mind. Our classes are designed to provide workouts based on the latest fitness trends and research. All of our staff are professional, nationally certified, experienced instructors. We suggest you cross-train within our program by regularly attending a mixture of classes taught by different instructors. The benefits received from a consistent routine (3-4 times per week) are as follows:
Improved cardio-respiratory health
Reduced body fat
Increased muscular endurance
Increased metabolic rate
Increased bone density
Reduced blood pressure
Increased flexibility
Reduced stress
Improved self-esteem
Improved mind/body connection
Designed to accommodate your active lifestyle!
Our Group Fitness Class Pack system is tailor-made to meet your exact class attendance needs. Purchase a 5-Class Pack or the Unlimited Class Pack–it is all based on your schedule and class attendance.
You do not have to be a member of the Center Fitness Club to take group exercise classes, however Center Fitness Club members receive a discount on all Group Fitness. You will be asked to show proof of membership to qualify for this discount. Group Fitness Class Passes expire twelve months from date of issue.
2023 Group Fitness Packages
| Group Fit Package | In-Person | Virtual |
| --- | --- | --- |
| Single/Daily | $18 | $13 |
| 5 pack | $82 | $67 |
| Single/Daily | $18 | $13 |
| 5 pack | $82 | $67 |
| 10 pack | $150 | $123 |
| 20 Pack | $274 | $225 |
| Unlimited CFC Member | $600 | — |
| Unlimited Non-Member Resident | $741 | — |
| Unlimited Non-Member Non-Resident | $961 | — |
GroupFit Passes may be purchased online through ClassBug, or by contacting Liz Antman at lantman@wilpark.org. They are non-transferable and expire twelve months from date of issue.
Senior discounts are not available on GroupFit Passes.
The Wilmette Park District reserves the right to cancel classes with continued low attendance and class schedules may be subject to change. We will update our website with any class changes or cancelations.
Our insurance coverage does not permit the presence of children under the age of 14 in Group Fitness classes. Thanks for your understanding.
Lori Brand
Chris Canning
Karen Champion
Lora Dubin
Stacy Hawks
Rachelle Leech
Marta Mandziuk
Allison Margolis
Cris Persico
Christine Quinn
Alison Rundall
Cheri Weber